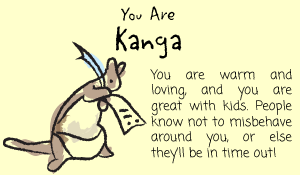 Take the 100 Acre Personality Quiz!
found this fun little quiz while over at There's more to this life. Fifi was pooh bear, I took the quiz and turns out I'm Kanga. Ok I'll agree with the 1st part but don't worry about misbehaving to much around me. I'm not a big fan of the time out! :P
Go ahead play along and let me know who you are.