WOW what a week I have had.. It has been really busy, but really fun. My sister was home last week from TX, she was here with her family of 4.

Lets see where to start... hum hum hum.. How about on Tuesday of last week. Tuesday started off with getting the kids ready for school and Sweet Pea staying home from school because she was sick.. DH got home and started hanging up Christmas lights. Yes ya'll heard me right.. that was Christmas lights.. All those bags of Christmas lights we thought was taken from our garage was found.. Well all except one bag full of them.. So we will be not as bright as we were last year but we will still be lite... You all don't know how happy this makes me... Now if I could find the box of Christmas decorations for the tree I would be in great shape.. LOL..
Anyways back to Tuesday.. At lunch time my Sister and her oldest my niece A, come up and we went and ate lunch with Mr Man at school.. the plan was to eat with Sweet Pea and Mr Man but Sweet Pea wasn't doing well. After lunch and playing on the playground I dropped my sister and niece off at my grandparents went and took Princess and Mr Man out of school early and picked up Sweet pea and we were off to there dentist appointment.
Over all it was a good appointment.. Zero cavities for Princess, only one for Mr Man and Sweet Pea. The big news here is Princess needs braces. $
After the dentist we went and stopped by and said hello to my aunt, we haven't seen her in about 2 years so that was nice. Then I took the kids to McDonald's that has this really huge play land that they just love.. We got back home about 7pm Tuesday night and went to my grandma's house where my mom and sister were waiting for us..(they had kept Little Man while we were gone) That night Mr Man went to my mom's to spend the night along with my sister and her family and the girls spent the night with my grandma. Sweet Pea was feeling better by then.

Wednesday my sister and I got together over at grandma's again, this time was to try to get a group shot of all the grandkids for my mom. My BIL has this super cool camera.. I would tell ya what it is but I don't know.. but it is cool :)
He also does really good photos.. Here are the group pictures we took that day. He was also the one who took the picture of my 4 that I posted in my Thanksgiving post.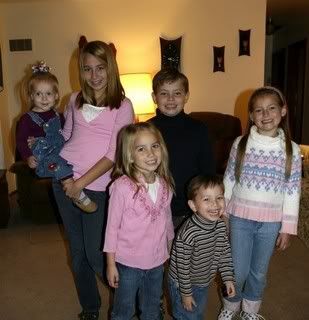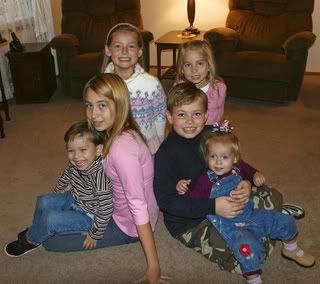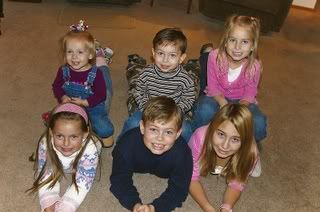 Thursday was Thanksgiving and I don't have my thanksgiving pictures online yet so I'll have to share those later.. But we started the day with the good old Macy's thanksgiving day parade and then headed over to my in laws house where we had lunch with MIL, FIL, DH's older brother and his 4 kids and DH's younger brother and his wife.. Then we sat around talking while the kids played and the guys watched football.
Next we headed over to my grandma to visit with my Grandma, Grandpa, Uncle, mom and dad, my brother, my sister her husband and there two girls.. after visiting for a bit we ate leftover thanksgiving dinner there. The kids had a ball playing with there cousins and most everyone left around 8:30pm and I think I got out of there around 9pm.

Friday No early bird shopping for me.. I tend to think you early bird black Friday shoppers are crazy... LOL.. going into stores when all those crazy people are in them scare me SNORT.... I did stop by Dicks sporting goods and Sears before heading to my dentist appointment though but didn't buy anything.
My Dentist appointment is a whole different story.. went in for x-rays and an exam and it took 3 hours.. THREE ****3***** HOURS!!!!!!!!!!!!!!!!!! So totally messing up the plans I had for the rest of the day.. So instead I came home picked up my antibiotic(for my tooth that is going to need pulled UGH) Then ate dinner then took Little Man over to my parents(the other kids were already there) I was at my parents till 8:30pm Got home at 9pm and thought about something I saw while at Sears so I ran back up and bought it.. then went and picked up a few groceries items and DH and I put them away at 11:30pm

Saturday I woke up not feeling to well, my poor little tummy(SNORT nothing little about my tummy LOL)was all upset and I couldn't figure out why I wasn't feeling sick before but now there I was feeling awful. but I got showered and dressed and DH and I headed out to his Aunts funeral it was nice they had it at the alliance here here in our town, the same place I got to MOPS at(if I ever could find time to make it to MOPS, haven't got to go at all this year so far) After the grave yard we went out to the dinner. It sounds funny to say it was nice seeing as one of DH's aunts just passed away,(one of the ones I just loved like crazy) but it was really nice getting to get caught up with all his family members some who we haven't seen in over 10 years.
Afterwards i was a mess my belly was so upset, I was vomiting and not doing well at the other end either.. THEN it hit me.. the antibiotic I'm on is totally messing me up ... I have been having trouble ever since I started it.. but I'm going to try to deal with it till it's gone.. if it gets too bad I'll call and ask for something different, but today I seem to be doing 50% better on it then I was yesterday so maybe by tomorrow I'll be use to it.

Today I got up unsure if I was going to make it to church or not due to how I was feeling.. but I chanced it and went.. Still not doing extremely well but the vomiting stuff is gone but the cramping is still here.. UGH what joy.
Tonight is Pajama night at Awanas.. maybe I'll remember to get some pictures of that, it should be fun.

Guess I'll end this book of a post now and go see what sort of food is in the house to come up with a menu plan for Monday..

Hope you all had a great weekend.