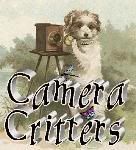 I left Little Man with DH Friday night while I went to pick the other kids up and when I came home this is how I found our Poor Cat.

by the time I took my coat off he was all decorated for Christmas Thanks to a Little 3 year old boy

Here Kitty Kitty Kitty.. look at the camera.
Kitty thinks.. dang women, stop taking my picture and get me out of this mess.

Yes Little Man and Sox have been having loads of fun getting ready for Christmas.