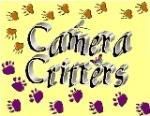 It has been a few months since I have done a Camera Critter post.. but thought i would take the time to get back into the swing of things.

A couple weeks ago I was subbing at the preschool(love subbing there I Love all the kids they are the best) Anyways they have two new pets in there room.. and it was time to clean the cage.. Mind you I am not a fan of these two little pets at all.. they sort of gross me out.. but I thought Little Man might get a kick out of seeing them.. So while they were in the tiny box they were placed in while there cage was being clean I grabbed my cell phone and took a few pictures.

With in seconds of being placed in this box these little fellows were already leaving there droppings behind.
A hour or so later we went into the other class room next store to let the two preschool classes play together and the kids had there shoes off doing different things here and there and they asked to see the class room pets and touch them and hold them and such.. This one little boy had his shoe near by and let one of the little pets crawl into his shoe.

The little guy both mouse and boy were getting a big kick out of this... but the only thing I could think of was what those little things did with in seconds of being placed into the box..